I got to thinking about Cambodia. I was lucky enough to visit this beautiful, friendly country this summer. I truly think it's a hidden gem that deserves a greater reputation than merely housing the world's most beautiful, still-active temple: Angkor Wat. The Khmer people of Cambodia are accommodating, genuine, and truly happy, despite not having the wonderful luxuries we Westerners take for granted on a daily basis. Our tuk-tuk driver was diligent, eager, and so deserving of an extra tip. One thing about Cambodia: everything is in the USD, so it isn't as cheap as Thailand or Vietnam. If you decide to visit this beautiful country, there are must-sees:
Angkor Archaeological Complex: All the temples are part of this complex. You must buy a pass. There is a one-day pass for $20, three-day pass for $40, or seven-day for $60. We chose the three-day, since we only had two days.
Angkor Wat: What a beautiful sight. Make sure to go before the sun rises, about forty-five minutes prior to sunrise. There's nothing like it. The sun shines behind Angkor Wat to showcase a beautiful, old, and immaculate temple. Make sure to take lots of pictures. Internet photos don't do this place justice. There's too much beauty. You just have to see it for yourself.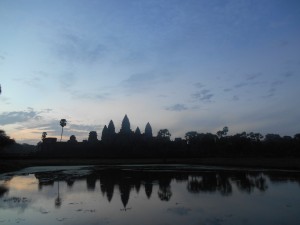 Ta Prohm: This is the temple where Angelina Jolie's Tomb Raider was filmed. You'll see the tree that's growing among the temple, rising high into the sky. It's fascinating.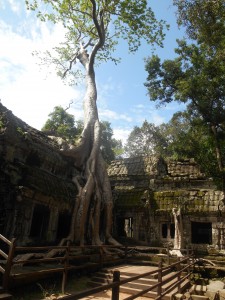 Bayon: This is the temple with the faces. That's how I describe it. It's not quite as impressive as Angkor Wat or Ta Prohm (but seemingly much busier), but it's a must-see.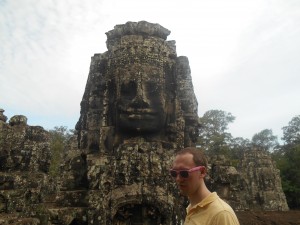 The smaller temples: We loved the smaller temples in the Angkor Archaeological Complex. We visited: Ta Som, Ta Nei, Prei, Preah Kahn (not so small, but less famous), and Neak Pean. Here, you can explore without the crowds. But beware of people giving "tours." They do offer helpful temple information, but demand tips in return.
Angkor National Museum: This is a skip. We weren't that impressed with it. It's a high-priced museum without air-conditioning. And in the summer, there's nothing more wonderful than air-conditioning in Cambodia. There isn't that much to see; you'd be better off spending more time at the temples and reading about the Khmer people (fascinating people) on Wikipedia.
Cuisine Wat Damnak: MUST EAT HERE! It is AMAZING food! They offer a rotating tasting menu. I tried beef tongue here! It was fabulous.