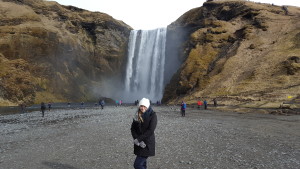 Welcome to my website! My name is Caroline A. De Jong. I'm a graduate of Loyola Marymount University in Los Angeles, California with a degree in screenwriting. There are two things you should know about me: I write what I know, but I also write what I notice. I'm a sucker for movie trailers and a good cup of coffee (preferably, Starbucks).
Friends
is the best show ever, hands down.
There are two things that I know in this life: that you must follow what you love, and that you must love. I began this blog with the intention of sharing what I love. To me, there is simply nothing better than writing, to transform into another's shoes and be someone else for that moment. Someone once told me: "You're a writer. You get to live two lives. Who else can do that?" And that's pretty much the best thing I've ever heard.
So welcome to my page! Be inspired and fall into another world; after all, stories are one of the best places to be. Be a dreamer. Always. 🙂
–Caroline A. De Jong
Contact:
@carolineadejong
IMDb:
http://www.imdb.com/name/nm9365350/?ref_=ttfc_fc_wr1